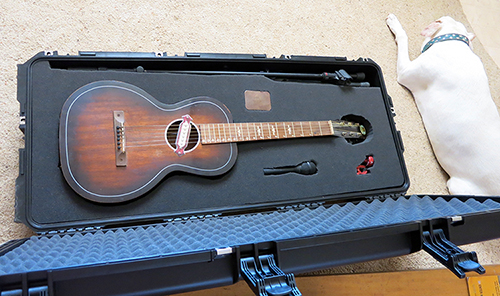 …And she gave me this beautiful acoustic square necked lap steel guitar from the 1940's. I stuck it in the corner and looked at it for a few weeks. After a while I thought I'd have a look and a listen. Apparently, I did everything wrong. Put the finger picks on backwards, kept it in the weird tuning it was in. But I stuck with it and started playing the blues. 
I very quickly wrote a song called 'Coyote' and recorded it. Man, it sounded good, and I thought I should carry on. It was a rediscovery of the naivety of when I first started playing normal guitar, and I was hooked. 
A lot of songs coming out of it were about death. I started playing out at a local church meeting. It was nerve racking playing to folks who seemed near the end of their 'egg timers' singing "The slow painful death of everything I love." But it was great practice and playing bars after that was a breeze.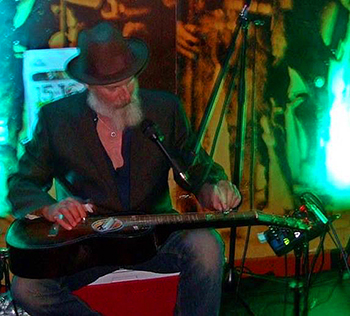 I started to add flavours like a drum machine with synth bass notes from a Roland Dr. Rhythm. I lugged around a portable PA to start with. It was good to be in control of everything. I eventually ended up ditching that set up in favour of playing to a simple backing track from an iPod mini into a 4-track mini mixing desk and out to the house PA. I could fit all this into a beer cooler which was the perfect height to sit on; a self-contained traveling blues show. The last sonic addition was a vocal harmony foot pedal that I used sparingly as another dimension. 
I did a brilliant tour of the U.K. and Ireland in 2015, supporting the amazing duo Sean & Zander. A weird concept really; Sean Wheeler from Throw Rag, Zander Schloss from The Circle Jerks and me...original punks playing acoustic instruments and great songs. It was a highlight for me. Plus, I hadn't been "home" for seventeen years so I got to see a bunch of old friends. Reunions and reforming old groups makes a lot of sense, money-wise, but doing something new and being out there naked has a certain charm. Not many people get it, but those that do fuckin' love it.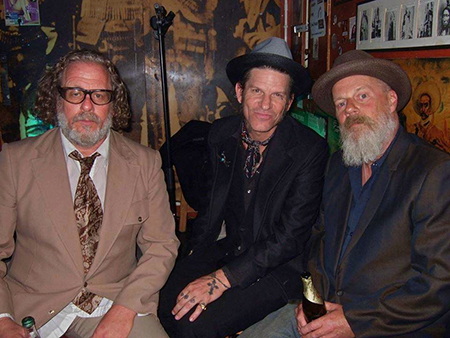 There are a lot of things to get right playing a show; singing in tune, playing freely on the guitar, mixing the sound balance and remembering the cues in relation to the backing tracks. Sometimes I feel like a fuckin' octopus, but when it all works out it's a feeling of joy. A couple of tours and 5 albums later, there's still a lot left to do…