An excerpt from the book 'Loud Guitarist' by Derwood Andrews…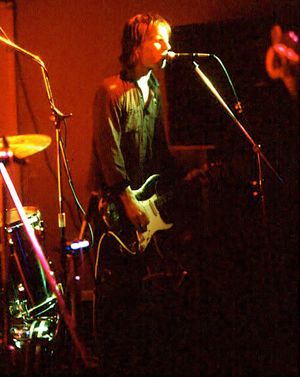 Chrysalis Music put Mark and I into a little demo studio in Wimbledon. We were booked in as Mr. Laff and Mr. Andrews. The house engineer (Michael Gregovich) thought we were an insurance company coming in to do a commercial. We recorded about five tracks. There was a brief moment where we pondered the idea of being an instrumental band. We did the track 'Empire' as an instrumental. But the trouble was, I was writing words and tunes so it kind of had to be that. We picked up where we had left Generation X on the third album. The sound we were making was a step on from that, after all, it was the sound of the drums and guitar that was mainly the idea in Generation X. 
I played the bass and sang, as well as the guitar. I didn't want to have to sing, but as I knew the words and the melodies, it made sense. Besides, it was way too soon to bring in a stranger on vocals. Plus, at that point, I had had it with singers. I was shy as fuck about singing. I had done some backing vocals in Generation X, but I was no front man singer. I did what I could and hoped it kind of blended with the music. 
I was coming up to 21 years old, and I figured I had about five years to fuck around and find myself, before I needed to worry. After all the experiences in Generation X, I felt that I was a proper guitarist now, and I really should pursue that. I kind of fell into it, but I was stuck in that roll, and had no intention of getting a job or anything normal like that. 
Laff and I were pleased with the Empire demos, and I began to write more songs and think about finding a bass player. Through asking around and mutual friends, we started to hear about a bassist called Simon. He lived in Wandsworth and for some reason we set up a meeting at a bus stop on the New Kings road. As me and Laff got closer to the shelter, we saw two young guys. They were standing apart and not speaking to each other and with every step closer we were mumbling "What one do you think is Simon?" One looked like a modern version of Clark Gable, very cool. The other looked like Deputy Dawg. Before we got close enough to speak, a 22 bus pulled up and Clark got on. That's how we met Simon Bernal. He was very soft speaking and obviously a bit of a hippy. But a very nice person and, by the look of his instrument, a fine bass player. He played a fretless Fender precision, which showed he had balls.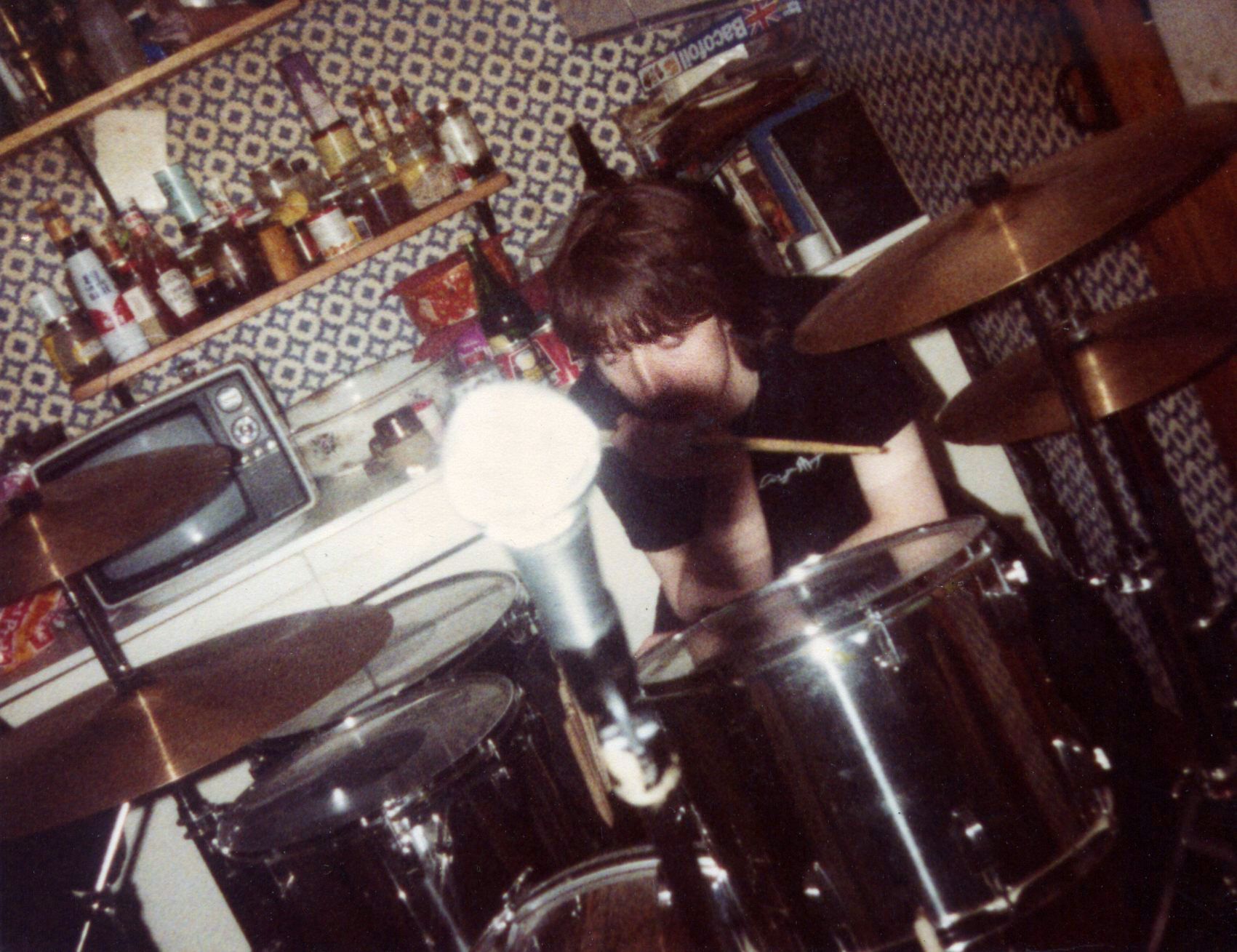 We rehearsed in his kitchen for as long as possible, until the neighbors got up a petition to ban us. Which was fair enough. He lived in a terraced house on Wandsworth Bridge Road with his parents, not unlike the house I was born in, and we were as loud as fuck. 
And so we had to scrape some dough together for rehearsals. I was back on the dole by now, but that wasn't enough. They always made sure that it just wasn't enough. So you had to do something. Me and Laff joined an agency for really hard work and no money. It was called 'Work Your Arse Off For Peanuts.' Not exactly, but it should have been. One of the worst jobs was putting the chairs away after a boxing match. "That doesn't sound too bad", you say. Well it was at Wembley Arena, the same place me and Laff played at about a year ago. You had to unbolt each chair, stack them in huge unmovable piles and wheel them out to a storage area. Remember I said this place was an 8000 seater? Well now we fuckin' knew for sure. 
We arrived at the last punch of a Tony Sibson fight. Then we started working. We worked with about ten other losers, for ten fuckin' hours, for ten fuckin' quid. To cap off the evening, it had snowed all night and me and Laff got on my motorcycle to freeze in the slush back home. 
This is just one example of the crap we ended up doing in order to pay for a rehearsal or two. Working as a roadie with Slouch was another, and painting apartments and doing moron jobs all over made ends meet, just. 
Talk about back to reality, it was as if the Generation X years were a dream or something. Except it wasn't my dream, and it wasn't broken by me. Some things are just beyond your control. I still didn't know what my dream was, if I had one. Little did I know then that this was to be the pattern of a guitarist's life; up, down and fuckin' around! 
By August 1980, we had enough songs to think about doing an album. We met a guy called Dave Skillen who had just sold his house to start a small record label. We went into Alvic studios in Barons Court to begin recording on the 8th October. We used Michael Gregovic as engineer as we had become firm friends. And besides, he worked at Alvic. Dave Skillen's record company, Dinosaur Discs, had an office and a record shop above the studio, so it was all self contained. Empire was to be the first release.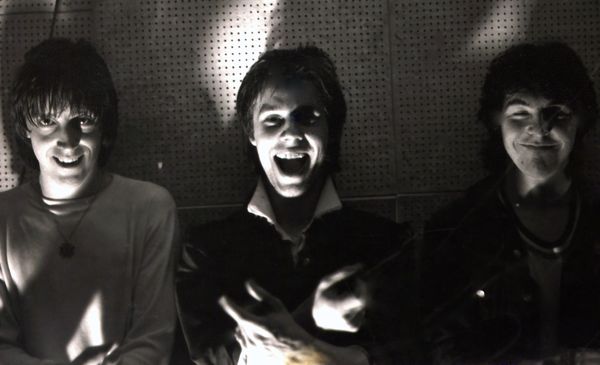 We finished the album in six days, then a few for mixing. It was even quicker than the first Generation X album. 
I designed the album cover; I put hardly any information on it. It looked like a 12'' single with the hole in the middle, I didn't mention who was on vocals, and all the track names were only on one side of the label on the record. Everyone hated it and it really annoyed people! I'm a fuckin' guitarist, not a designer. We called it 'Expensive Sound' 'cause it cost peanuts to make, but the quality of the sound was very good, thanks to Michael. 
Skillen did deals with press people and marketing, all sorts. It was taking time, but I didn't feel there was a rush. 
We did a rehearsal (not in Simon's kitchen) on the 4th Feb 1981 with our first gig lined up for the 6th. It was at Guilford Tech, just south of London, supporting a girl called Hazel O'Connor. She was in some dopey film called Breaking Glass, and now had a band. 
The great thing about it was all the Generation X crew showed up and worked the gig with us. Slouch, the sound guys, the bouncer guy, Bruce. It was like old times. I felt like a total cunt at centre stage; singing and shit. But I shut my eyes and got through it. I knew I was a crap front man, but I couldn't stand the thought of a singer so I chose that solution. An audience can tell when you're shy or uncomfortable, and it makes them feel the same. A front man has to exude confidence and that is contagious. Billy Idol was a great front man, except for that one night in the Isle of White. Remember me saying, he lost all his confidence for the whole gig and freaked out? I just had to bite my lip and lead the band physically and mentally, the best I could. 
Around this time I got a phone call from Tony asking if I would consider playing guitar in Gen X. I didn't need to think about it, I just said no and continued the conversation exuding my joy of Empire. He was surprised that I was singing. Not as much as I! Even though things were tough profession-wise, I knew it would be soul destroying to go back and play with the new Gen X operation. Fuck that! 
On the 24th April, 1981, 'Hot Seat/ All These Things' was our first (and only) single. We did one interview on the BBC newsbeat show and had a couple of single reviews in the music papers. 
The "best" one was this...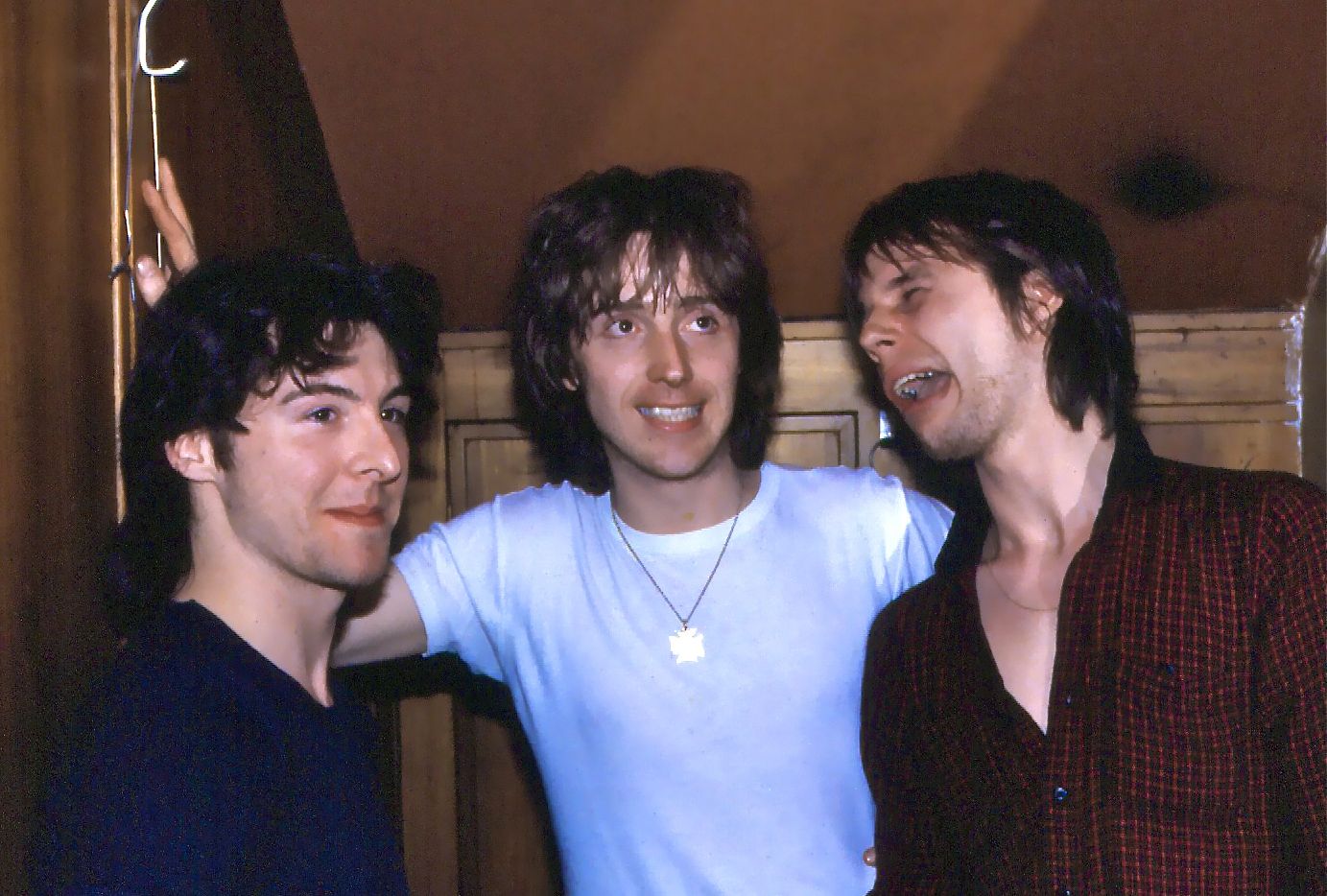 "Empire 'Hot Seat' (Dinosaur Discs)
Erstwhile Generation X pretty boys Mark Laff and Bob Andrews are the chaps behind this magnificently forgettable escapade. 
The song has what might be described as a limited impact, but at least Andrews gets to run through an exhaustive repertoire of guitar clichés."
We didn't stand a fuckin' chance! 
The album 'Expensive Sound' followed on 30th May. Here's an extract of a review...
"Here it's ashes to ashes, metal to rust because 'Expensive Sound' is built on, and devoted to, Derwood's penchant for the symbols and sounds of heavy rock. In fact, one number 'Electric Guitar' ends up as little more than an indulgent tribute to and celebration of the catwail axe. And throughout the rest of the album, the winding solos weave their weary way around the bass, the beat and the tired vocals."
Fuck me...could you be more cuttingly specific? Just say it's crap.