An excerpt from the book 'Loud Guitarist' by Derwood Andrews…
(This passage picks up at the end of Westworld's 3-year stint living in Cave Creek, Arizona.)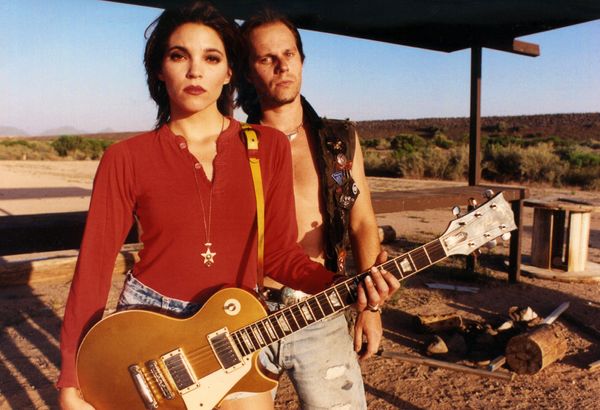 Me and Liz were almost out of money and so I began a new album, recorded in our bedroom. We began driving into LA and having meetings to try and get a record deal. It was going pretty well with Kevin Laffey at Warner Brothers. Also at Quincy Jones's new label. Hugo Burnham (our old pal from Gang of Four) was an A&R man there and with Richard (Leggy) Bishop's help we almost got a deal. But it just wasn't to be, and by the summer of '94 we admitted defeat. We sold all the equipment for peanuts at a music shop in Phoenix; drum kit, Marshall stacks, guitars, bass amps; and we had a giant 'moving' sale. We got enough money to buy two tickets to London and we sadly left a time and place that was slowly leaving us too, anyway. The party was over.
What a strange feeling. From the Wild West to Putney and signing on again.
Dear Pete McCarthy and Nikki came over to see us and I played them the album I had recorded in Cave Creek. Pete said "Derwood, that's not goin' to work here, the new thing that's happening is called Jungle." "Jungle" I said, "What the fuck's that?" "It's feckin' brilliant! It's these young kids who are making records on their computers and they've got pirate radio stations all over London," he said. "You should meet this guy, his name is Martin and he's right on it and a lovely guy, maybe you could do something together".
So I called him and liked him instantly based on the phone call. He was from, and lived in, the East end. Old Street to be exact. It seemed that this underground thing was 'real'; it was young people doing their own thing and pushing boundaries. I loved the rawness of the music. He came over to Putney and we hit it off immediately. He showed me the theory of the music and actually blew up my little desk and speakers in the process. I was beginning to understand that it was extreme, in all ways, and put forward the idea of him taking the vocals and sounds of my Arizona music and 'rinsing it out' as he would say. I would add some slide guitar for him to work with. He took the old sounds and left for Old Street.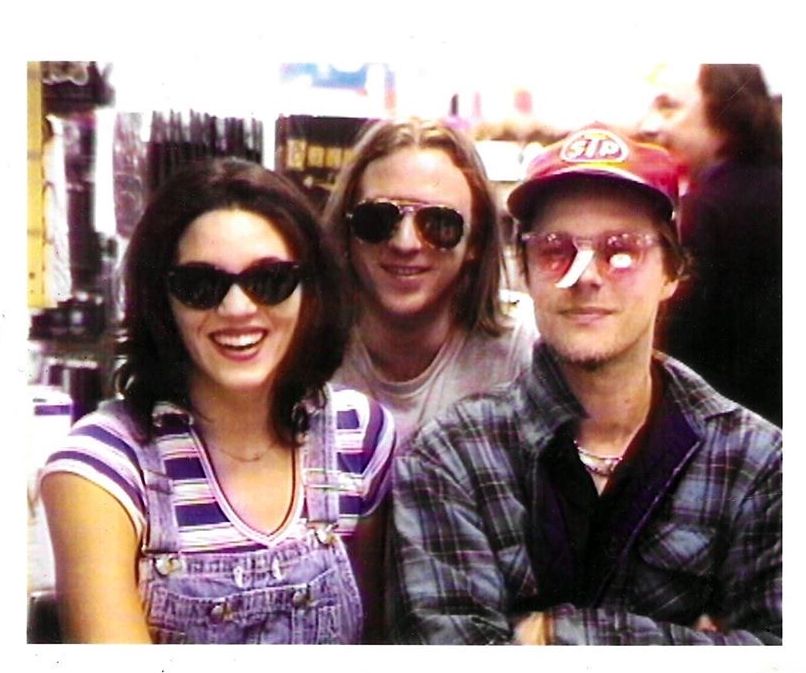 A week later we met in the West end and he played me (on a Walkman) what he had done. 'Silver Lining' was the first re-mix and it blew me away. It was nuts; I'd never heard anything like it. I still didn't understand what he had done or what it was, but it was genius. He decided to carry on with 'Wonderfool', 'Alright' and 'Gasoline Rain', and it was all incredible to me. We were doing something amazing and it was a hell of a creative time. 
Elizabeth wasn't as into it as me, she didn't really get it. It wasn't really rock 'n' roll, but it was something special, I knew that. To me it was almost like classical music. It washed over me in the same way, due to my lack of understanding, I loved it.
I believed in Moondogg and the idea a hell of a lot. We needed to find someone that believed in it too. That was fuckin' tough. On hearing it people would say "I like it, but what is it?" We never had an answer. It was like nothing before and nothing that was. Jungle was not really taking off. It was still underground; there were no 'stars' or individual pioneers. We made a 12'' record ourselves of the first 4 tracks we did, but people were confused and had no idea how to market it, or anything.
Elizabeth had been busy socializing in nightclubs and such, and had wound up in the circle of the new hot band in England, Oasis and their cronies. Our idea, Moondogg, was falling on deaf ears. But it turned out a guy called Tim Abbot (Oasis friend and former Creation Records employee) and his new record company, Better Records, was the only person in the world willing to give us a chance. 
We had a bunch of meetings and he started paying for things. I had filmed a few videos for our tracks and Martin was finishing up the first album. After about 6 or 7 're-mixes' I wrote some new songs with our 'formula' in mind, Dogg's Life, Systematic, and Lost Tribe, so the album was about 50/50 remix and new. We called it 'Fat Lot of Good ' and it was fuckin' genius in the eyes of me and Martin. Then, we waited…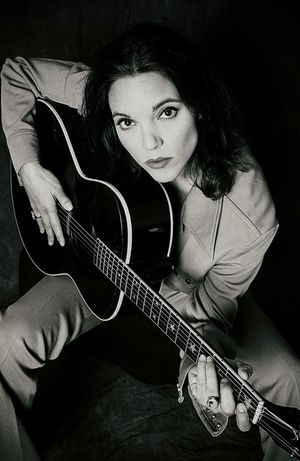 A strange thing I sorted out while waiting was to get Chrysalis Records to pay for a recording session of my songs with Mark Laff and Tony James, and Liz singing. It was Generation X without Idol. It turned out pretty good but of no consequence. Another effort was Tony and I going to Chrysalis to try and sell my tapes of the third Generation X album (with the original version of 'Dancing With Myself' on it.) He picked me up in Putney in his white convertible Mercedes and we headed to Lisson Grove. The girl we met showed no interest in the tapes and that was it. I knew that I was the only one who had tapes of those sessions and had diligently held on to them all those years.
By now the days, weeks and months just grinded by. I was trying everything I knew to try and get something going. On the dole again, not speaking to Liz, just a hopeless situation. Our first album had been finished for a while. I'd even nearly finished the next album, which I wanted to call 'God's Wallop' (a play on codswallop, which meant crap). It was painful. I knew our music had a chance but not if it never got released.

October 9th 1995: Moondogg's first single 'Wonderfool' is released on Better Records. (At fuckin' last! Thirteen months after it was mastered). Get this, for the very first time in the history of anything musical I had done, we had an amazing review in a serious music paper (well, Melody Maker). We were single of the week, with a big photo an' all. They said:
"Wonderfool is one of those tracks which haunt your waking moments; damaged pirate jungle beats underlying the hypnotic loops of Elizabeth Westwood's eerie, humid voice. The odd draining dub bass filters in, a little blues-y, wailing guitar. Images? Mid – Western American scrubland; the walk home along Ditchling Road after too many tequilas; one of those self-consciously glamorous Central London nightclubs, with a mirror ball spinning way too fast. Third track, "Ugly Truth" sounds like Slade gone jungle, Transvision Vamp at their most pouting. Wheeeee!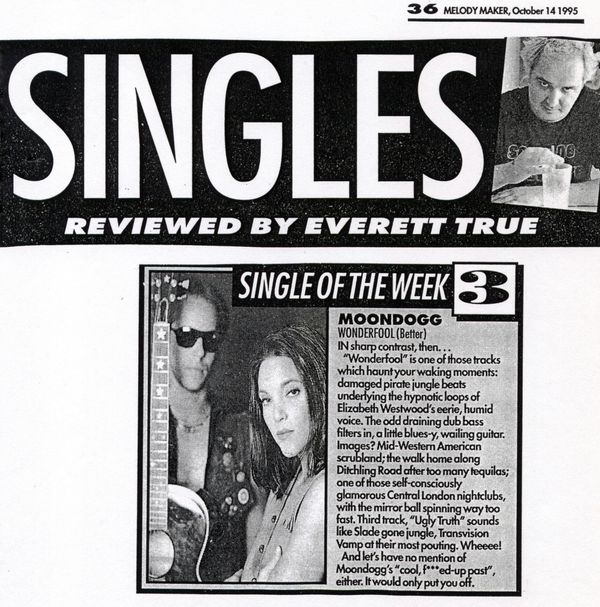 And let's have no mention of Moondogg's cool, f***ed-up past, either. It would only put you off."
My last event for 1995 was a weird miming thing at The Forum in Kentish Town. My buddy Thomas who had helped sort out all the Moondogg video edits asked if I wanted a laugh. Boy, yes I did. I was dressed as a hippy and was pissed as a fart. I found myself wandering backstage and in the bowels of the place, on my own, in a wig and looking for my guitar. Somehow I found it and found the stage in time to do what I was there to do. Mime to "I Love Rock 'n' Roll", Joan Jett I think. I was miming real good, 'cause I really didn't love rock 'n' roll, I fuckin' hated it right then. I went to the front of the stage and stamped on some poor girl's camera and threw my guitar into the audience, only to realize that it was my fuckin' Strat that I needed to get back, so I recovered it nicely. 
But yeah, things were getting out of control.
8th January 1996: Another pointless meeting at Better Records, or so I thought. It was a complete turn around. Let's sign a deal, here's the release schedule, how much money do you need to finish the second album? Basically everything I'd hoped for months was on offer. I never knew what made this change, but I was revamped. 'Black Pain' was to be our next single, then they would release the first album. Great! I just wished I could have shared the joy with Liz, but we were so over at this point. 
Black Pain came out on 25th March '96 with more great reviews and a great package in the works for F.L.O.G. - a limited edition of the album in a cool box with a 7'' single, a videocassette of the three videos I had made and the CD. But when will it come out, for fuck sake?
A Japanese copy of the album arrived via motorcycle messenger the next day. I called Tim to say thanks and ask where was the 20,000 pound advance that we should have got? He said that we had gotten it, but we owed him way more than that so he kept it! 
Check out the great press we were getting… 
Arena, May '96, Pick of the Month: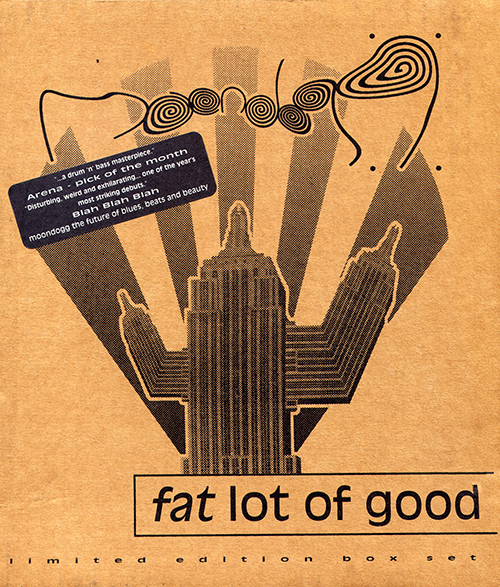 "Speed up the beats. Overlay slide blues guitar. Smear with haunting vocals. Add a PR story about a wise old Navajo who gave the group his name. You have a drum'n'bass masterpiece."
Blah Blah Blah, May '96:
"You couldn't find two musical strains more polarized than jungle and backwoods slide guitar, but the collision of millennial urban drum'n'bass sounds and arid, peyote- soaked bottleneck is the mixture that fuels Moondogg's engine. 
Assembled from the ashes of 80's rockabilly band Westworld, Moondogg's sound is striking. A combination of skittering beats and raw-edged guitar playing bridged by desolate, torch blues singing. 
Disturbing, weird and exhilarating, tracks like 'Wonderfool', 'Gasoline Rain' and the stunning single combination 'Black Pain' and 'Spooked Horse' make Fat Lot of Good one of the year's most striking debuts. Clear parallels with Portishead exist, but while Moondogg have followed a similar route they've ended up at a completely different place- somewhere right off the musical map, howling at starless night skies. "
Listings, June '96: 
"Jungle purists will have convulsions if they hear this, where their precious time-stretched breaks are put to actual songs that are sung. They were catchy in '87 as Westworld and they're still catchy in '96 as Moondogg. The ace 'Black Pain' single is present along with a host of other slide guitar- junglist-pop songs. Unique and excellent."
Evening Standard, June '96:
"Former Generation X and Westworld alumni Derwood Andrews and Liz Westwood paint Arizona soundscapes, then out rock Portishead, Tricky and Goldie three to one. Their startling fusion of blues, jungle and Navajo cult lore make Moondogg a Doors for today. Inspiring."
It was nuts! I'd never experienced such understanding and glory. Except Tim had only made 500 CD's, including the limited edition…